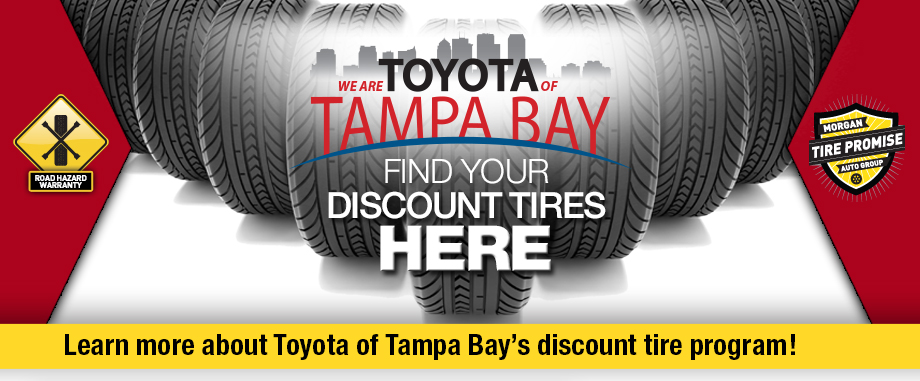 The Morgan group's road hazard tire warranty

Protect Your New Tires with Toyota of Tampa Bay's Road Hazard Tire Warranty!
These are all serious hazards for you and your tires! At Toyota of Tampa Bay, we want to help you drive with the utmost peace of mind and confidence down the Brandon, Tampa, and Wesley Chapel roads. Our Road Hazard Tire Warranty helps to cover your tires against unexpected damage for up to 2 years after purchase*. We cover every new tire against non-repairable damage that's not covered by the manufacturer's warranty at no additional charge – You won't get that kind of purchase security anywhere else! Learn more about the added benefits you'll get at Toyota of Tampa Bay below, or visit our Tampa service center to speak to one of our tire experts today!
Added Protection from the Start – Service your Tires at Toyota of Tampa Bay
When you shop for tires at Toyota of Tampa Bay, you don't just get the protection of the Road Hazard Warranty, you also get the added security that your car, truck, van, or SUV tires have been installed by an expert team of automotive technicians. At our state of the art facility, we take care of your car as if it was our own, inspecting your alignment, checking your battery, performing a 47-point written inspection, and even washing your car once we're done servicing it. Plus, while you're waiting you can sit back and relax in our theater lounge with Netflix and complimentary Wi-Fi. Next time you need tires, take your vehicle to a place that goes the extra mile – Service your car at Toyota of Tampa Bay now!
Added Protection and More Savings with Toyota of Tampa Bay's Discount Tire Program!
Toyota of Tampa Bay doesn't just protect your tires; we also help protect your pocketbook! Our discount tire program gives you the best prices on the most popular brands of tires including: Michelin, Pirelli, Firestone, Continental, Goodyear, Bridgestone, and more. We even back your purchase with our tire promise – If we can't beat or match a tire special we will refund you 150% of the difference. Treat yourself to a better tire-shopping experience – Buy your next set of tires at our new Toyota dealership in Tampa now!
* TERM OF COVERAGE: This Program covers Eligible Tires for a term of 24 months from the date on your original purchase invoice for the tires, or until any part of the tire tread that comes in contact with the road has a tread depth of 2/32" or less, whichever occurs first ("Coverage Term"). Eligible Replacement Tires will be covered under this Program for the remainder of the original Eligible Tire's Coverage Term. The Coverage Term will not be extended or determined by the installation date of the Eligible Replacement Tire.