2018 TOYOTA RAV4, HIGHLANDER, PRIUS V, AND SIENNA DOG-FRIENDLY FEATURES
Do you like to take your dog on weekend adventures?  If you do, or if you're thinking about taking your best friend for a spin, then you should check a few safety items beforehand.
Besides telling your dog to jump in and pick a spot there's features on the inside of the vehicle that can go a long way towards making everyone safe and comfortable.  We have listed some of the pet-friendly features of Toyota vehicles like the RAV4 crossover, Highlander SUV and Sienna minivan. Toyota says 
Let's Go Places – with Pets!
Dog-Friendly Features of Toyota Models
Some vehicle features that make the drive more comfortable for dogs include:
A low height to enter the vehicle.
A rear liftgate or hatch.
Climate control in the rear.
Spaciousness.
Seats that fold flat.
Childproof windows and doors.
Storage options that keep your items out of the way of your pet.
Interior build to last that is stain resistant and easy to clean.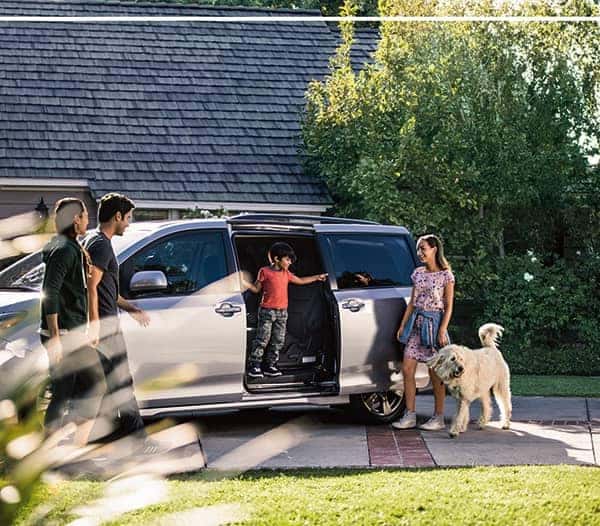 Don't forget to pack plenty of water, clean towels, blankets, pet food, clean bowls and plastic bags for pet waste and trash clean up.
You may enjoy having your pet in your lap or seeing your dog hang out of the window but you should keep your pet harnessed or secured as much as possible so they don't distract you and risk injury while you are driving.
2018 Toyota RAV4 (Small SUV): Shop Now
Remote power liftgate, fold-down seats in back, dual zone climate control, available cargo net system.
2018 Toyota Highlander (Midsize SUV): Shop Now
Rear liftgate, spacious area in back, fold-down seats.
2018 Toyota Sienna (Minivan): Shop Now
The most spacious interior of these vehicles, three-zone automatic climate control with air filter, rear fold-down seats, available cargo storage compartment.
2018 Toyota Prius v (Hybrid Wagon): Shop Now
A major edge of the Prius v, a wagon, is how low the rear is to the ground, giving your dog an easy entrance point; plus you have a liftgate, fold-down seats.
Find a Vehicle That Suites Your Needs, Fits Your Budget and Supports a Pet Friendly Lifestyle at Toyota of Tampa Bay
We carry a wide variety of Toyota vehicles at Toyota of Tampa Bay, a new Toyota and certified pre-owned vehicle dealership located at 1101 E Fletcher Ave just 20 minutes from anywhere in Tampa Bay.  We also offer door-to-door delivery to surrounding Florida cities including Wesley Chapel, Lutz, Temple Terrace, Brandon, Riverview, Carollwood, Bradenton and Orlando.  For additional information on special events or current finance offers on vehicles in stock, call us at 813-933-6402, visit us on the lot, or check back here at the official Toyota of Tampa Bay Blog.