9th Annual Perfect Car for Perfect Attendance Giveaway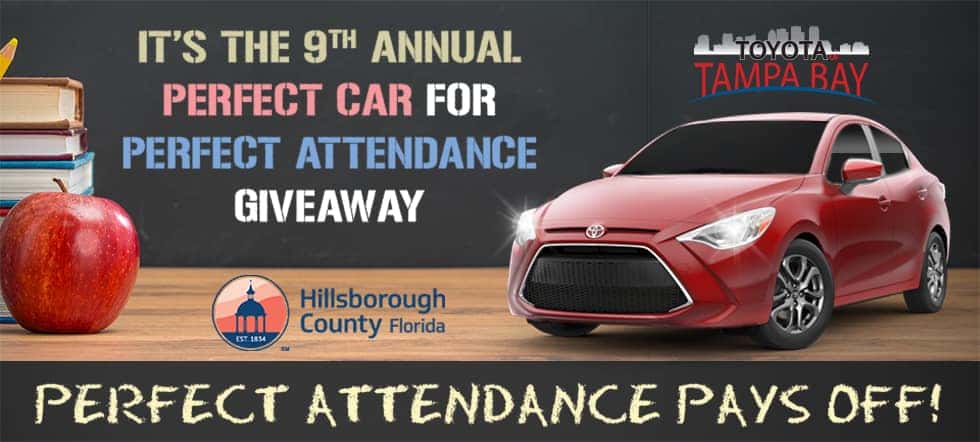 Perfect Attendance Matters
The 9th Annual Perfect Car Perfect Attendance Giveaway is in its final stages! Students with names listed below have been selected as finalists and will take part in the grand prized giveaway at Toyota of Tampa Bay.One lucky Hillsborough County student will win a brand-new Toyota Yaris iA!
This year two local businesses, Toyota of Tampa Bay and Suncoast Credit Union, join Hillsborough County Public Schools (HCPS) to recognize seniors who have achieved perfect attendance.
Toyota of Tampa Bay will host a special event called A Perfect Car for Perfect Attendance Giveaway to honor seniors with at least one year of perfect attendance while in high school. Toyota of Tampa Bay will give away one free car to one lucky senior. At the May 14th Board meeting, each of the 1,987 eligible seniors who have earned at least one year of perfect attendance in high school will be entered into a random drawing. The random drawing will select 10 eligible seniors for a final drawing on June 11, 2019. Each of the 10 students graduating this year with perfect attendance for all 13 years will automatically enter the final drawing. Students must be present to win and present a valid driver's license and social security card on the day of the event to take ownership of the car.
Ademuyiwa Oyenusi, King High School
Alexis De Boer, Newsome High School
Azauni Peterkin, Strawberry Crest High School
Cameron Roush, Riverview High School
Carlos Curnow II, Durant High School
Cole Starling, Strawberry Crest High School
Darryn Bone, Plant High School
Douglas Conkey, Brandon High School
Katie Dunn, Newsome High School
Megan Graves, Bloomingdale High School