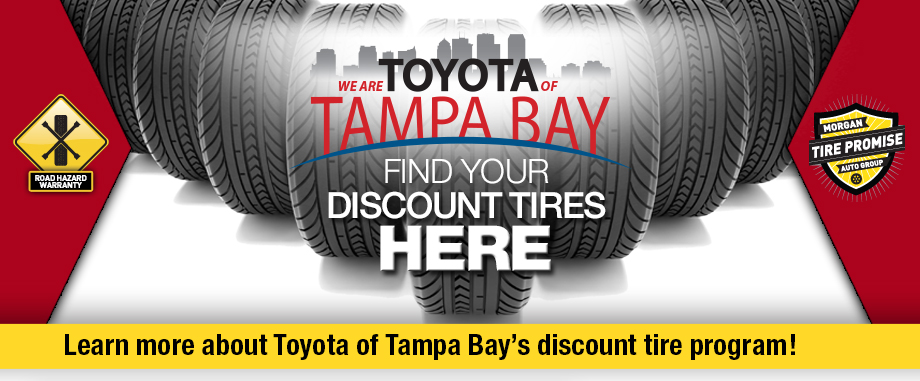 Save on the Most Popular Tire Brands at Toyota of Tampa Bay!
At Toyota of Tampa Bay, we offer maximum savings on the popular tire brands you trust for your car, truck, van or SUV! We have name brand tires including Firestone, Pirelli, BF Goodrich, Continental, Bridgestone, Goodyear, and Michelin of every size in stock. Plus, our ASE Certified factory trained technicians will gladly share their knowledge and years of experience to help you decide on the perfect tires that fit your vehicle, driving style, and match the road conditions in the Brandon, Tampa, and Wesley Chapel areas. Learn more about our tire promise and road hazard warranty below, then visit our service center in Tampa to check out our tire offers, get a tire quote, or meet with one of our tire experts today!
Our Promise to You When You Buy New Tires at Our Tampa Dealership
As a proud member of the Morgan Auto Group, we are proud to uphold their one-of-a-kind tire promise here at Toyota of Tampa Bay. The Morgan Auto Group tire promise offers Brandon, Tampa, Wesley Chapel, and surrounding Florida areas added protection and peace of mind with each purchase of a new tire at our Tampa dealership. Not only do we promise to provide exceptional maintenance and customer service, but we also will meet or beat any advertised special. If we can't, we'll refund you 150% of the difference. You won't get that kind of automotive service anywhere else – Contact our tire experts at (813) 428-7198 to learn more about this exclusive Tire Promise at Toyota of Tampa Bay now!
Back Your Purchase with our Exclusive Road Hazard Tire Warranty
At Toyota of Tampa Bay, we're dedicated to the complete satisfaction and safety of our customers. Every tire we sell is covered by our exclusive road hazard tire warranty. This warranty covers your new tires against damage not covered by the manufacturer's warranty at no additional cost. This includes protection against a variety of hazards including glass, road debris, curbs, and even potholes. At Toyota of Tampa Bay, we'll replace all non-repairable punctured tires for two years after purchase*. Treat yourself to a fast, friendly, fair, and fun tire shopping experience – Visit our service center conveniently located near the Brandon, Tampa, and Wesley Chapel areas to learn more about our Road Hazard Tire Warranty today!
* TERM OF COVERAGE: This Program covers Eligible Tires for a term of 24 months from the date on your original purchase invoice for the tires, or until any part of the tire tread that comes in contact with the road has a tread depth of 2/32" or less, whichever occurs first ("Coverage Term"). Eligible Replacement Tires will be covered under this Program for the remainder of the original Eligible Tire's Coverage Term. The Coverage Term will not be extended or determined by the installation date of the Eligible Replacement Tire.