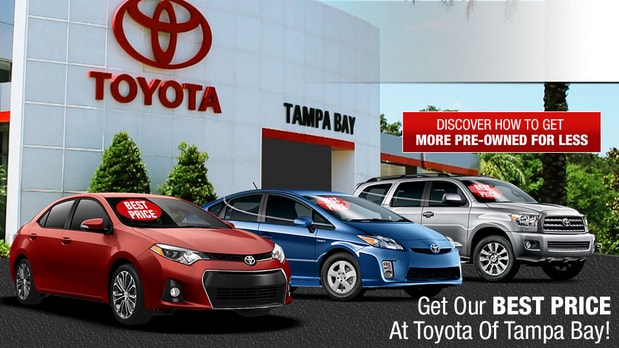 Shop Pre-Owned At Toyota Of Tampa Bay And Push Your Savings To The "Max"
Buying pre-owned is all about finding the right car at the right price. Toyota of Tampa Bay wants the process to be as smooth and easy as possible.
But many of the big chains (with big overhead) are really about the easiest way to increase their bottom line!
Be A Smart Car Shopper
Big chains like CarMax and others make a big deal out of their "No Haggle" policy. Like they're doing you a favor by refusing to negotiate with you.
That "No Haggle" big deal really means "No Deal" for you, the car buyer. With "no haggle," the dealer locks in a fat profit and basically tells you to take it or leave it.
You should leave it. And head to Toyota of Tampa Bay.
For The Lowest Price On Pre-Owned, Visit Toyota Of Tampa Bay
When you purchase a quality used vehicle from us, you're getting our absolute BEST PRICE. And negotiating is always welcome.
So when some dealer says "No haggle," you should say "No way!"
Special Offers On Our Huge Inventory Of Late Model, Low Mileage Cars, Trucks, SUVs And Crossovers!
To receive up-to-the-minute discounts and incentives on our huge inventory pre-owned vehicles, just fill out the form. Then come see us. Negotiations are always welcome!
WE ARE: the Bay Area's low price leader. WE ARE: Toyota of Tampa Bay!