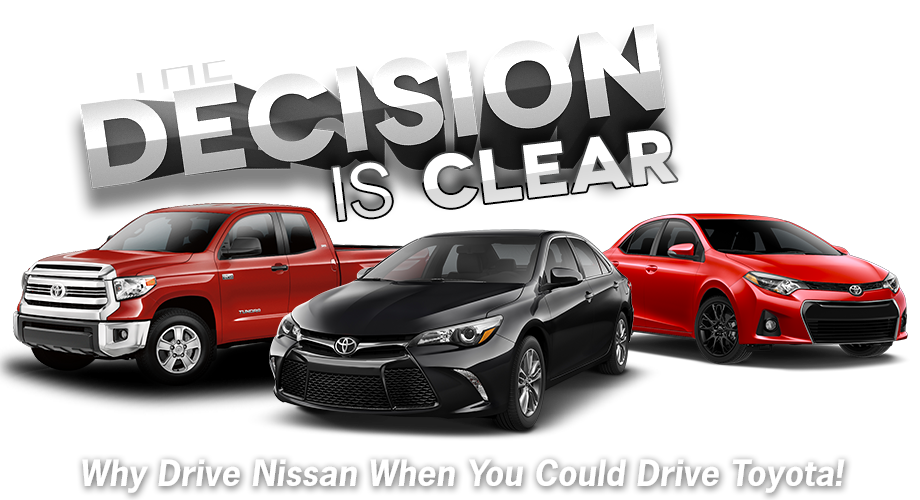 "Toyota or Nissan?" Here Are The Facts
If you're stuck between buying a new Toyota or a new Nissan, you need to have all the facts to make the right decision.
And the fact is Toyota should be number one on your list! Don't believe us? Check this out!
Fact #1: Unsurpassed Safety
Toyota is a leader when it comes to safety. In 2015, Toyota had eight vehicles that received the IIHS Top Safety Pick Award. They also feature the Star Safety System, which includes advanced safety features that come standard on all vehicles, Nissan doesn't!
Fact #2: Legendary Reliability
90% of Toyotas sold within the past ten years are still on the road. When you decide to buy a new Toyota, feel safe in knowing that your car, truck or SUV is built last. Can Nissan say that?
Fact #3: The Toyota Corolla is the world's best selling coupe ever!
You just can't argue with a Toyota fact like that! Nissan doesn't' want you to know that because they can't compare!
Fact #4: The ToyotaCare Plan
Every New Toyota comes with no cost scheduled maintenance for 2 years or 25,000 miles .24-hour roadside assistance for 2 years and unlimited miles is also included! No one, not even Nissan has that!
Why choose Toyota at Tampa Bay?
With a state-of-the-art facility, technologically advanced equipment and Master Techs working on your vehicle, we promise you're covered.
Plus, while you're here, be sure to schedule your next service and get money saving coupons.
While you're waiting you can relax in our brand-new lounge room, fully equipped with a movie theatre, kids playroom, free Wi-Fi and more!
At Toyota of Tampa Bay we want to know you and your vehicle and we pride ourselves in creating an individualized relationship with all of our customers. That's why we take the time to listen to you and do all we can to meet your service needs.
Our goal is to provide the best possible experience every time you visit our dealership!
Service Made Easy
At Toyota of Tampa Bay, we take service to the next level!
Used Car Warranty-10-Year/100,000 Mile (Limited Powertrain Warranty)
3 Day/300 Mile Exchange Policy. You can exchange your vehicle for another of equal or lesser value. Must be from dealers current stock.
Service Dollars Rewards Program | Build points with every visit, Use those points to redeem free gifts.
Lifetime Car Washes
Allstate Insurance will be on site for all your insurance needs.
With facts like these there is only one decision to make. How fast can you get to Toyota of Tampa Bay and find your new Toyota?